National Apprenticeship Week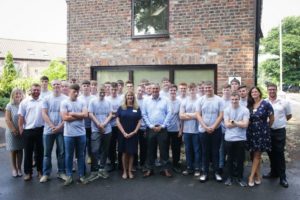 This week is National Apprenticeship Week, so we can't think of any better time to celebrate the young people who take part in our trainee programmes. Since we set up the Mitchell and Urwin Apprentice Academy in 2015 we've recruited 49 trainees who have shown outstanding skills and dedication to their trade. In 2017 we won the CITB Apprentice SME Employer Award for the whole of the UK, proving that our programme is leading the way for the building industry.
The M&U Apprentice Academy is a four year programme in which young people who want to forge a career in construction can learn their trade under the watchful eye of our expert mentors. Apprenticeships can be tailored to the needs and experience levels of each candidate, and trainees can join us straight from school, during college or when they've completed their training course.
Our programme is developed in partnership with the CITB and an HR consultant to ensure it is of the highest possible standard. Our apprentice mentors have also undergone Mentor Training by the National Construction College: Understanding and Motivating your Apprentice.
At the end of their programme, apprentices will receive an NVQ Level 3 in bricklaying, as well as having gained invaluable on the job training on busy worksites. Our apprentice schemes are longer than many others, because we know the importance of hands-on training and experience when it comes to creating dedicated, highly skilled and confident bricklayers. It's a philosophy that has been proven to work year on year, which is why we remain the industry's most trusted provider of apprentice schemes.
Throughout the 13 years since National Apprenticeship Week launched, it has brought together apprenticeship supporters from all around the UK, along with with politicians and other leading figures to celebrate the value of apprenticeships.
To find out more about National Apprenticeship Week, visit the government website:
https://www.gov.uk/government/news/save-the-date-national-apprenticeship-week-2020-to-be-held-3-to-7-february-2020
To enquire about our Apprenticeship opportunities at Mitchell and Urwin, give us a call or visit our information page: